If you are contacting support@sonosuite.com and your emails are not being answered, it may be due to your address being flagged as spam. In order to avoid your emails being flagged as spam, we recommend to authenticate your email addresses. Here you will find instructions guide on how to do it.
What are the different authentication protocols?
Introduction
Spam filters rely on several factors for deciding which emails go to the inbox, spam folder or simply blocked. This includes the sender's email address, the IP address, the content of your message and certain authentication protocols for email.
The result of this multi-factor filtering is that even completely legitimate emails may be flagged unintentionally.
How do I test my address?
Knowing how to correctly authenticate emails sent on all of our domains is the first step.
The tool used to test the filters and settings on SpamAssassin is Mail Tester.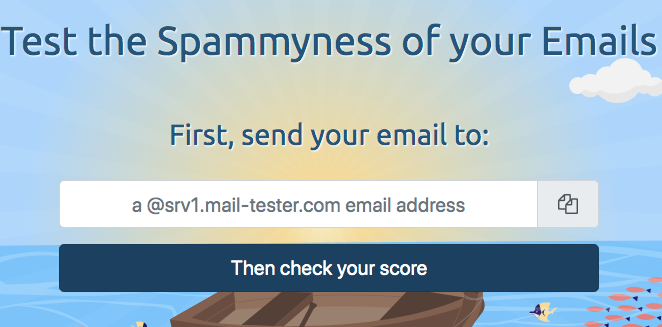 Forward the unattended email to the address provided by the website and click on "Then check your score"
Check the "SpamAssassin" tab to find out the status of your email address SPF, DKIM and DMARC.

What are the different authentication protocols?
SPF: an email authentication protocol that allows the owner of a domain to specify which mail servers they use to send mail from that domain.
DKIM (Domain Keys Identified Mail): an email authentication technique that allows the receiver to check that an email was indeed sent and authorised by the owner of that domain. This is done by giving the email a digital signature. This DKIM signature is a header that is added to the message and is secured with encryption.
Generate a DKIM key for your domain
Add the domain key to our domain's DNS records
If you have more than one domain, complete these steps for each domain. Use a unique DKIM key for each domain.
DMARC (Domain-based Message Authentication, Reporting and Conformance): an email authentication protocol. It is designed to give email domain owners the ability to protect their domain from unauthorized use, commonly known as email spoofing.

DMARC only works if you have SPF/DKIM setup correctly first.

Check if exist in your domain a TXT with the next values. If not, create a new one with the name of the domain as title and with this values.
* As a recommendation: Check your spam box and unmark any SonoSuite email as spam to solve further issues.
After these corrections, your address will be well configured, and we'll be able to receive your communications successfully.
We inform you that the purpose of this article is to give you some help and to avoid any issues with our ticketing service in order to give you a proper support service. For further information or support, we kindly ask you to contact your email provider.