SonoSuite Support Center refers to the tools and channels available for the client when in need of information and support regarding the usage of SonoSuite platform.
The client can go to the Support Center to deepen the knowledge about the platform's operation, clarify doubts, solve any issue, and even make suggestions, independently or by contacting our Support team.
Submit a request to the Support team
Which requests can I forward to the Support team?
Access
The access to Support Center is subject to sign-in.
On the other hand, the majority of its entries and support services will be available only once you have signed a subscription with us. Clients will be able to receive assistance from our Support team and consult the knowledge base articles in their entirety.
There are different options when signing in:

If you already contacted support@sonosuite.com: sign in by selecting the option "Have you emailed us? Get a password".

If you have never reached support@sonosuite.com: select the option "New to Sonosuite Support Center? Sign Up"

Options
From SonoSuite Help Center you can:
Consult the Knowledge base
Submit a request to the Support team
Follow up on your requests
Consult the Knowledge base
It is a virtual library of information, with resources organized from getting started with SonoSuite platform to troubleshooting inquiries, as well as templates useful to give support to your end-users. It is available in English and Spanish, 24/7.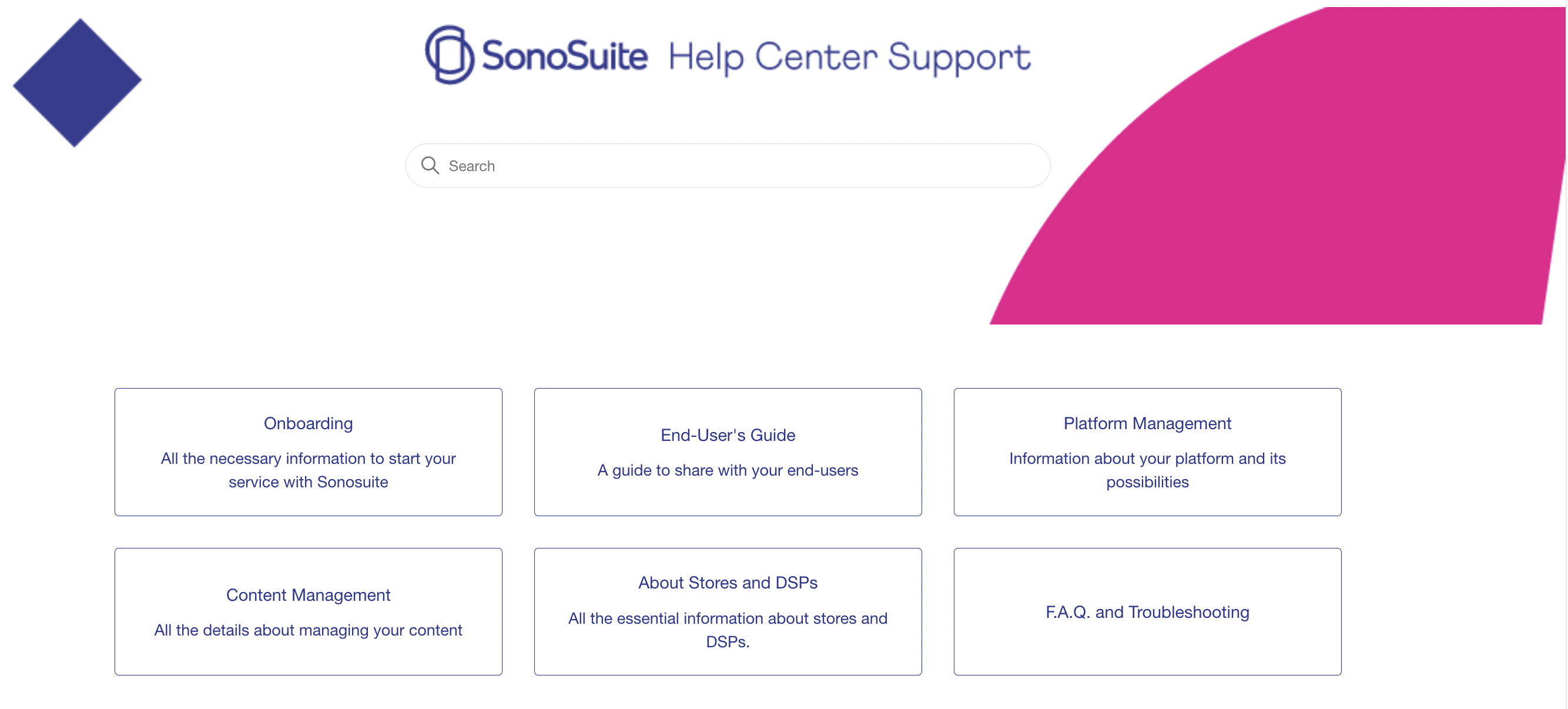 *The majority of information is available only to registered clients.
Submit a request to the Support team
From here you will be able to submit a request also called tickets, by filling the following fields:
Subject: Fill in the subject of your request
Description: Fill in the details of your request.
Business impact: How is your request affecting your business? You can select from "Limited" to "Blocker", being "Limited" the lowest business impact and "Blocker" the highest.
Attachments: Attach a file if it is useful to complete your request. This can be a document, report, screenshot, or any file that can help SonoSuite's team to better understand your request.


Follow up on your requests
From the "Requests" section, accessing your profile, you will be able to follow up on your requests with SonoSuite's Support team.
A list of your submitted requests will give you the following information:
Subject: the subject of your ticket
ID: The id of your ticket (automatically assigned).
Created: the date your ticket was created on.
Last Activity: the date your ticket was last updated.
Status:


Open - the ticket has been assigned to an agent who is working to resolve it.
Awaiting your reply - the agent is waiting for more information from you before resolving the ticket.
Solved - the work on the ticket is complete.
You can also see a list of the tickets that you are CC'd on.
Which requests can I forward to the Support team?
All requests from/to SonoSuite are between SonoSuite and you, the client. You are the one responsible for contacting your end-users, who might never be in copy. Otherwise, the white label solution doesn't work.
Please address at SonoSuite's Support team:
Any questions regarding the usage of the platform
Any technical issue
Any doubt you can't clarify by checking our Help Center
Suggestions or comments
Anything else you may need!
The response time is up to 48/72 hours.
This is the term for us to take charge of your request, which may need to be taken care of by a team other than Support one. This means that, even though we take care of your request with this term, it can take more than that to successfully close it.
Other requests
For subscription, contract, and other business services: contact your Account Manager.
For invoicing and payments: contact invoices@sonosuite.com.
In case of doubt, do not worry, contact Support and we will direct you to the appropriate department.